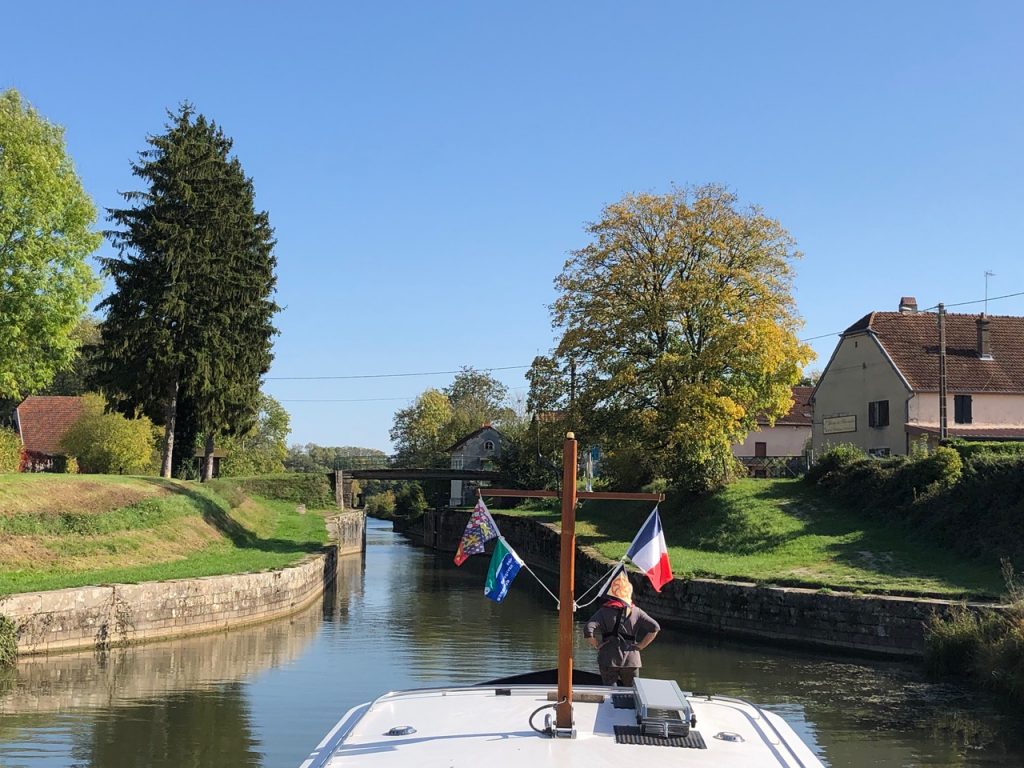 The Saône river flows southwestward from its source at the village of Vioménil in the Vosges mountains. The navigable portion begins at Corre, where traffic enters from the Canal des Vosges; the northern section, from Corre to St-Symphorien, is named the Petite Saône. The southern section is named the Basse Saône (lower Saône); it connects with the Rhône river at Lyon. The Saône is the largest tributary of the Rhône; together they form the only inland waterway connecting the the north of France to the Mediterranean Sea.
The Petite/Basse Saône are very different rivers, divided in name and in cruising interest. The Basse Saône accepts heavy barge traffic with its European high-capacity lock dimensions; it crosses the flatlands of central France with very little elevation change and long, sweeping curves. The Petite Saône uses locks of the 19th-century Freycinet gauge; it twists through the beautiful foothills of the Franche-Comté region, dropping through four times as many locks in slightly less distance. The Petite Saône has been improved for navigation by 20 canal cuts and two tunnels, the Basse Saône by one canal cut, no tunnels. The photo above shows passage through a floodgate at Charentenay.
La Basse Saône is a broad, slow river on a flat plain. Many levees have been installed to protect towns from flooding, blocking the view from onboard, which is generally uninteresting in any case. However, that doesn't mean that there are not some pleasant and interesting cities to visit as well as a quiet, peaceful side excursion on the river Seille to Louhans. The Basse Saône connects with the Rhône at Confluence point in Lyon.
The Doubs river is, in its southwesterly-flowing section, the route named Canal du Rhône au Rhin. A short canal section connects from the Petite Saône near St Jean-de-Losne to the Doubs at Dole; south of that junction, the non-navigable Doubs continues to the Basse Saône at at Verdun sur le Doubs. The cities of Dole, Besançon and Montbeliard are the urban features of a 238-kilometer river/canal passing through the wooded slopes and rocky outcroppings of the Franche-Comté region.
(In France, Saône is pronounced sone and Doubs is pronounced du.)
Petite Saône river and Canal du Rhône au Rhin/Doubs are described in detail in EuroCanals Guide: Eastern France.
Hello Tom, Thanks so much for all the work you have done over all these years and your freely offered support, it really is very much appreciated. So much so it has enabled a group of complete amateurs to take a 40 foot steel Dutch motor boat from Arnhem to very close to the Med, all via your guides, and we're still going!! Stay safe. John C.