Everyone knows of the castles on the Rhine, and the Rhine Gorge (shown in photo, at Sankt Goar) is the most scenic section, but there is a lot more to this river, the busiest in Europe. The northern section passes through a flat plain, the industrial heart of Germany, and offers interesting stops at Köln (Cologne) and Koblenz. At Koblenz the ridges rise on both sides of the river, with great views of castles and vineyards. The Rhine intersects with the Main river at Mainz, near Frankfurt, and connects via the Rhein-Main-Donau Kanal with the Danube for a route all the way to the Black Sea.
The Rhein river rises in the Swiss Alps and flows north,forming the western borders of Liechtenstein and Austria,then fills the Bodensee (Lake of Constance) between Switzerland and Germany. Kilometer measurements start at the German city of Konstanz, as the river leaves the Bodensee, and continue to the North Sea, at KM1031. The Rhein is canalized along the French border, from Basel to Strasbourg, then at Iffezheim (Germany) it continues north as an open river, with no locks, to the Dutch border. The final kilometer post in Germany is KM865.5, where the Rhein becomes the Waal in the Netherlands.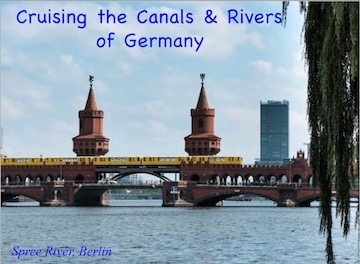 The Rhein river from Basel CH to the Netherlands border is shown on 17 detailed maps in EuroCanals Guide:
Cruising the Canals & Rivers of Germany
This guide includes sections describing the Neckar, Main, Main-Donau Kanal, Donau, Lahn, Weser, Mosel and Elbe rivers.
Hello Tom, Thanks so much for all the work you have done over all these years and your freely offered support, it really is very much appreciated. So much so it has enabled a group of complete amateurs to take a 40 foot steel Dutch motor boat from Arnhem to very close to the Med, all via your guides, and we're still going!! Stay safe. John C.